http://www.minibull.org/
The Miniature Bull Terrier Club of America
New- 2008 Show Schedule, 2007 Performance Award Winners
New- 2007 MBTCA National Specialty and Van Hildrikhusen Trophy Show Results
New- Email the MBTCA Board of Directors with any of your questions, concerns, or feedback just by clicking the highlighted link.
Welcome to the Miniature Bull Terrier Club of America. This site is meant to be a resource for you. You will find out all about the Miniature Bull Terrier here. You will learn who to contact for answers to your questions. You will also learn the latest information about health, shows, activities and much more. Before you leave please stop by and sign our guestbook and let us know what else you would like to see on the website.
The MBTCA was founded in 1966. It has over 130 members residing all over the US, as well as Canada and other countries. The MBTCA was originally created by a dedicated group of breeders and owners interested in promoting wider knowledge and greater appreciation of the extraordinary qualities of this breed. Membership is open to fanciers who are interested in exhibiting at AKC dog shows and/or performance events, and support breeding towards a healthy Miniature Bull Terrier who fits the standard in both type and temperament. It is also open to those who simply love the breed and seek friendship with fellow fanciers. The MBTCA publishes a breed magazine, "A Little Bull," four times a year, and sponsors various trophies and awards, as well as conducting national and regional specialties and supported shows around the country.
If you are a considering adding a Miniature Bull Terrier to your household, we hope to help you make the most informed decision whether this is indeed the right breed for you. Please read the Introduction to the Miniature Bull Terrier to find out more about this breed's unique qualities. Then see our article on Finding a Pup. Check out our Show Schedule to see what shows are coming up in your area where you may meet some of the dogs in person, as well as the people who love them. We also recommend you read over the Health pages of our website, including the Advice for Puppy Buyers. This site now also offers online Breeder Referrals, which can help you find a breeder in your area.
The club's Board of Directors and Officers recognizes the current health problems in the breed. It supports the Health Committees pursuit of solutions for the health and general welfare as well as urging members and breeders to abide by the Code of Ethics. Please make sure to take a look at the "Code of Ethics" and visit the health section to learn how your participation can help ensure the healthy future of our breed.
http://www.minibull.org/
Web Design by Vanessa Giamo
View My Guestbook
Sign My Guestbook
http://www.bull-terrier-com.fr
photo champion de france ch ib the profiler de yo des terres d ilex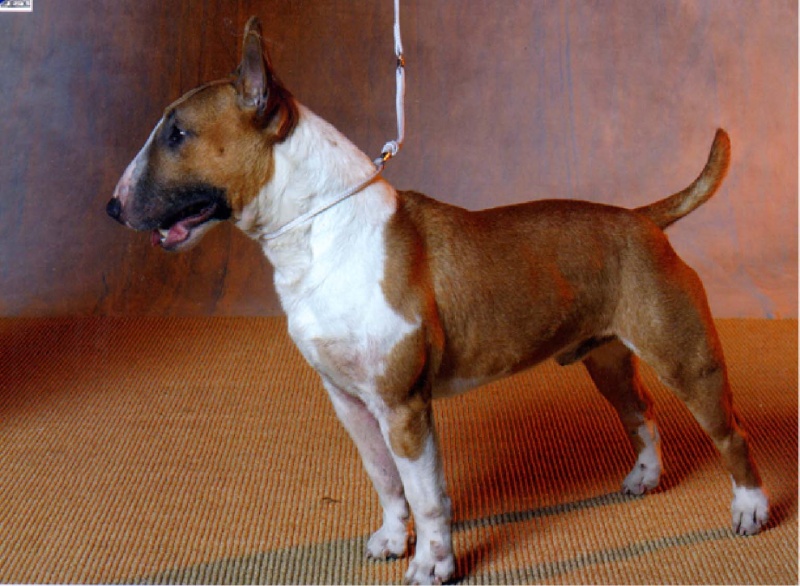 bull terrier miniature ( champion de france )
http://www.bulldoganglais.net